Sisters Project Exchange: A coordination meeting for sustainable and innovative projects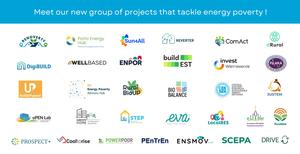 The RENOVERTY project recently hosted a coordination meeting between representatives and coordinators of a number of innovative projects in the field of sustainability. When projects have common themes, they are referred to as "sister projects." The event, held on October 23, 2023, provided an important platform for discussion and exchange of ideas regarding a wide range of initiatives crucial to a more sustainable future.
With an agenda full of presentations and discussions, the meeting allowed participants to deepen their understanding of the various projects as well as identify potential synergies and opportunities for collaboration. Representatives and coordinators shared their experiences and best practices, outlining the challenges and innovative solutions that characterize their respective projects.
The collaborative and constructive atmosphere fostered a lively exchange of knowledge and underscored the importance of joining forces to address current and future environmental challenges. The meeting demonstrated a common determination and commitment to implement projects that will have a significant impact on the environment and society as a whole.
The meeting opened with a warm welcome from Kristina Eisfeld of the Climate Alliance, who laid the groundwork for a day of constructive discussion and fruitful collaboration. IEECP representative Mara Oprea enthusiastically presented the RENOVERTY project, sharing ambitious details and goals that captured the attention of all present.
As the meeting came to its conclusion, participants recognized the importance of maintaining an open dialogue and continuing to share knowledge and resources to promote further progress in achieving a more sustainable and resilient world.
The Sisters Project  Exchange  event underscored the power of collaboration and innovation in achieving common goals related to sustainability, promoting greater environmental and social awareness and action.
Looking forward to the next developments and innovative initiatives, exchanges with sister projects continue to inspire and promote concrete actions for a greener and more equitable future for all.