Covenant of Mayors Investment Forum: success stories on climate and sustainable energy finance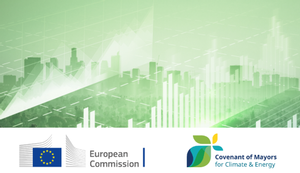 On 25 October in Brussels, AISFOR flew to Brussels for the Covent of Mayors Investment Forum (COMIF). The event was organised by the European Commissionís Directorate-General for†Energy, the Directorate-General for†Climate Action, and the European Climate, Infrastructure and Environment Executive Agency (CINEA), in collaboration with the†Covenant of Mayors†initiative.
The Conference brought together cities, financial institutions, and various stakeholders, to exchange best practices and solutions for shared challenges, showcased by practitioners to practitioners, and facilitate the market for climate and sustainable energy finance.
Many pioneering initiatives encouraging change at the local were presented, such as sustainable plans and strategies for energy transition, financing for energy efficiency in the public and private sectors, and investment in housing renovation.
Moreover, on 26 October, the AISFOR ENTRACK team participated in the CINEA Contractors Meeting for†Clean Energy Transition in Cities and Regions, which offered plenty of opportunities for networking and sharing of best practices among representatives of ongoing and future grants.
During the event, participants also had a chance to gain insights on policy updates concerning the Fit for 55 package, a set of interconnected proposals and revision of key legislation supporting the EUís target of reducing net greenhouse gas emissions by at least 55% by 2030,? and delivering the Green Deal, which aims to set the EU firmly on the path towards net zero GHG emissions by 2050. In this context, the pivotal role of local and regional authorities was stressed, as enablers of the energy transition leading the way towards decarbonising Europe. ENTRACK, the new LIFE project managed by AISFOR kicking off in November, falls fully within this scope as it will promote capacity building of local authorities and co-designing of social energy policies.†