Good News from the Conference on Energy poverty at the crossroads of the European Pillar of Social Rights and the European Green Deal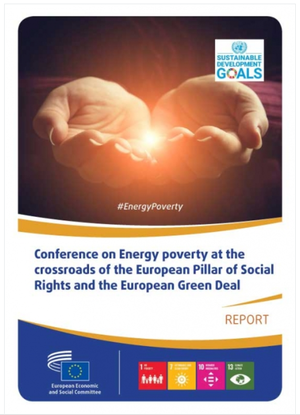 Official recognition of the role played by civil society in combating energy poverty 
The report of the  Conference on Energy poverty at the crossroads of the European Pillar of Social Rights and the European Green Deal has just been published, and it contains very good news!
The thoughts and ideas shared by high level representatives of European organized civil society, European institutions, national and local authorities and the academic world in the many round tables of the conference showed how Energy Poverty has become a crucial and urgent problem to be addressed with an integrated and coordinated approach in the policy framing of the European Union.
" If the UE will not maintain its promise of LEAVE NOBODY BEHIND, then the transition will fail"
Kadri Simons, European Commissioner for Energy  
Moreover, special attention was dedicated to the role played by civil society, and the need to start political actions designed in synergy with civil society and citizens, which are indispensable to achieve the ambitious objectives of the Green Deal.  
"The reduction of Energy Poverty can not be achieved without the active engagement of the European organised civil society"
Christa Schweng, CESE President
The conference focused on how European organised civil society, together with EU, national, regional, and local authorities must join forces to fight against energy poverty. On this regard the ASSIST Model was mentioned as a successful example of the above-mentioned synergies, with great pride of AISFOR and the partners of the ASSIST Project.
The conference represented an important boost for our work, which continues in line with the urgencies and needs emerged from the discussion. The need to guarantee access to decent standard of living  and to tacle energy poverty acting also on the efficiency of the buildings is reflected in the TIGER Project, which aims to improve the energy efficiency of the public housing stock.